ROCKS OFF
NICKY HOPKINS DISCOGRAPHY
SOLO - ALBUMS AND SINGLES
Information, tracks, covers, and sound samples of Nicky's solo-albums, singles and promos!
For his bands and his sessions with others please go back to the main index
Songs with hyperlink have a sample MP3 audio file!
For the index of all audio files in this website click here
---
Single 1:
(A) Mr. Big (Nicky Hopkins - David Whitaker)
(B) Jenni (Nicky Hopkins)
Both released on his first LP
GB: CBS 202055 1966
---
Album 1:
Revolutionary Piano 1966
LP: (GB) CBS62679
CD: 1995 Rewind (GB) 478502-2
CD February 21, 2001 SRCS-9825 (Japan)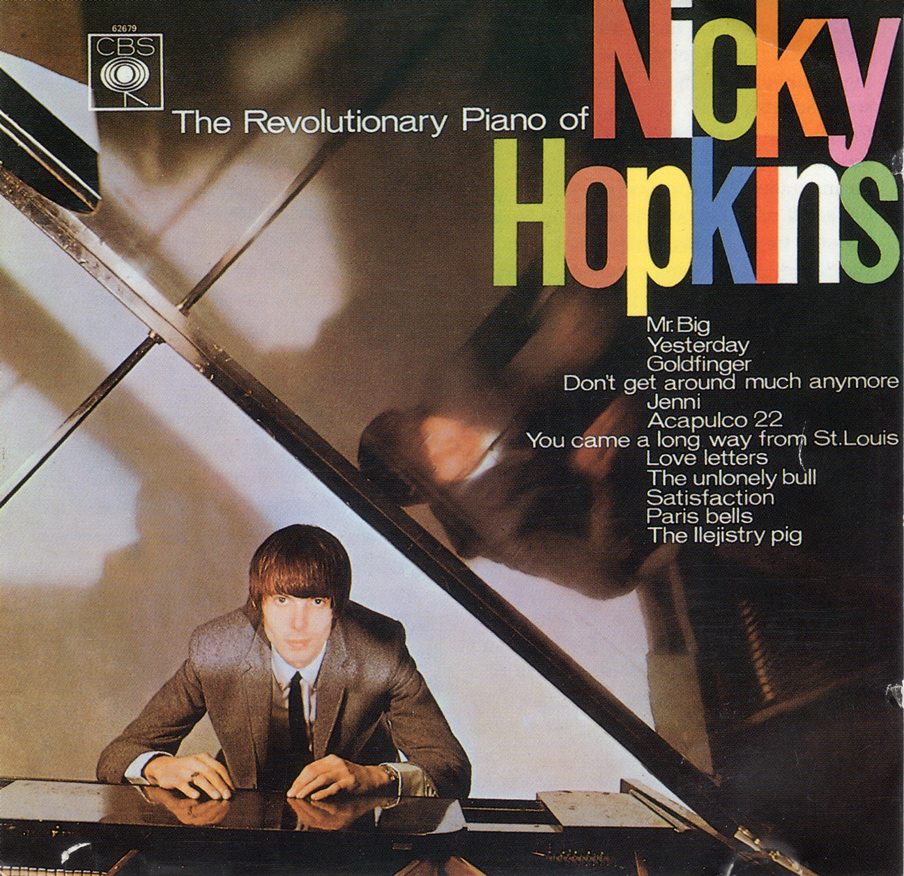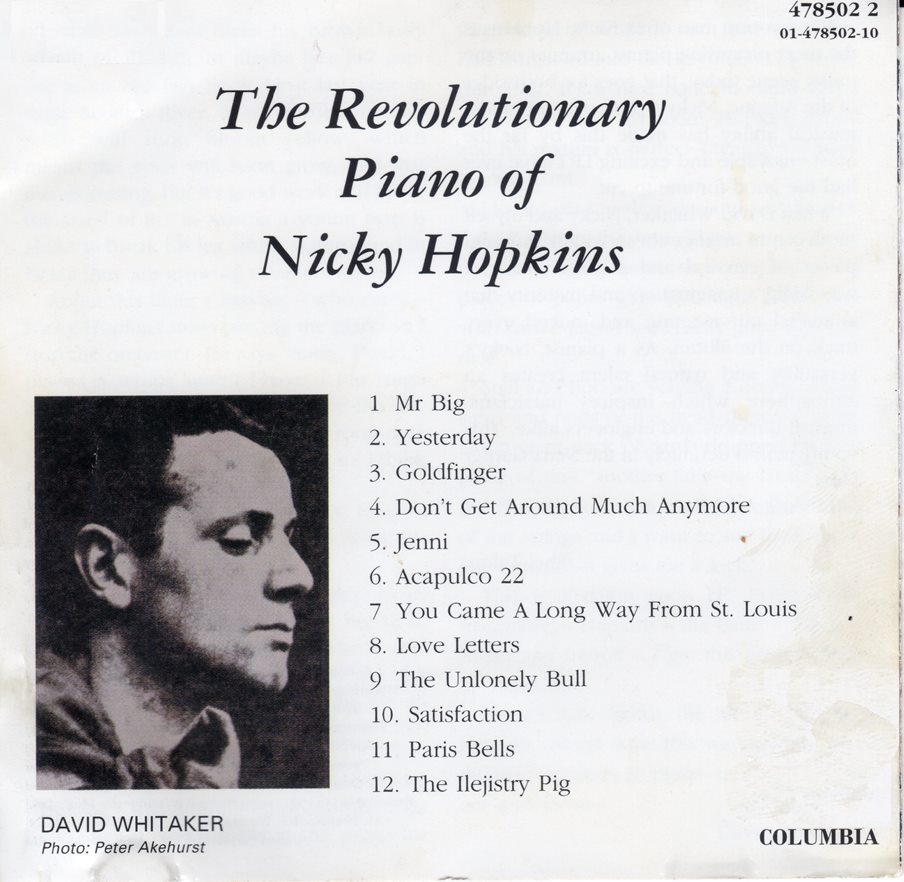 Pre-Fame album, not a well known recording. The album was produced by Shel Talmy who previously produced The Who and The Kinks. The sound is the piano of Nicky and The Mike Sammers Singers and Orchestra directed by David Whitaker.
SIDE 1:
1.- Mr. Big (Hopkins - Whitaker).
2.- Yesterday (Lennon - McCartney).
3.- Goldfinger (Barry - Bricusse - Newley).
4.- Don't Get Around Much Anymore (Ellington).
5.- Jenni (Hopkins)
SIDE 2:
1.- Acapulco 22 (Allan - Talmy).
2.- You Came A Long Way From St. Louis (Brooks - Russell).
3.- Love Letters (Young - Heyman).
4.- The Unlonely Bull (Hopkins - Whitaker).
5.- I Can't Get No (Satisfaction) (Jagger - Richards)
6.- Paris Bells (Birchel).
7.- The Ilejistry Pig (Hopkins)
---
· Single 2: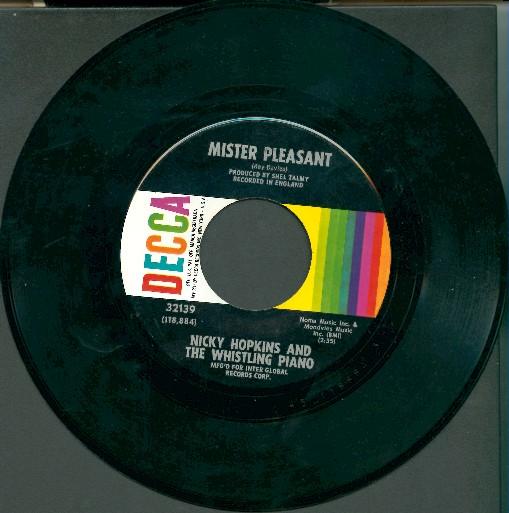 (A) Mister Pleasant (Ray Davies - Kinks) (B) Nothing As Yet (Nicky Hopkins)
BOTH SONGS NEVER RELEASED ON LP OR COMPILATIONS!
Nicky Hopkins And His Whistling Piano.
GB: Polydor BM56175 1967 / USA: Decca 32139 1967
---
Single 3: Top Pops No. 1 (PROMO) 7th June 1968, produced by Eddie Tre-Vett (Great Britain MGM 1419)

Finally!! I got this one!! (the most "hard-to.-find" Nicky Hopkins official recording)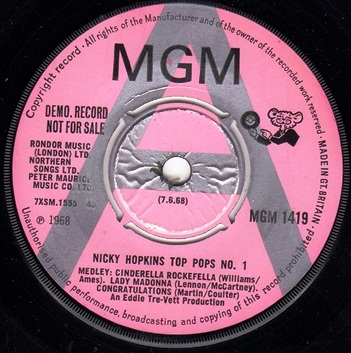 Side A: Medley (3:02) with
(a) Cinderella Rockefella (Mason Williams/Nancy Ames),
(b) Lady Madonna (John Lennon/Paul McCartney) and
(c) Congratulations (Bill Martin/Phil Coulter)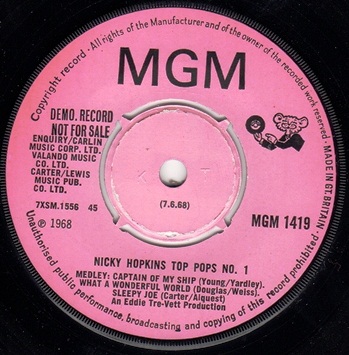 Side B: Medley (3:17) with
(a) Captain of my Ship (Everson Allen / Mark McKee / Kenny Young / Ben Yardley)
(b) What a Wonderful World (Bob Thiele (as George Douglas) and George David Weiss) and
(c) Sleepy Joe (John Carter & Russell Alquist, by mistake written "Alquest" on the label)

ALL SONGS NEVER RELEASED ON LP OR COMPILATIONS!
Click HERE for a sample of the audio!!
---

"Single 4:"
This is NOT a Nicky Hopkins single, it was incorrectly credited to Nicky Hopkins by Fontana but it is a Nigel Hopkins single.
Nigel was a trumpet player. The curious thing is that it was not only incorrectly credited but it included a brief biography of Nicky… Yes!! Our Nicky! (LOL)


(A) High on a Hill (B) Trumpet Serenade
BOTH SONGS NEVER RELEASED ON LP OR COMPILATIONS!
---

For the second and most successful and well-know album "The Tin Man was a Dreamer" Nicky made a very good launch, releasing several singles all with picture sleeves, alternating B-sides and covers. He also released some promos like the following:
---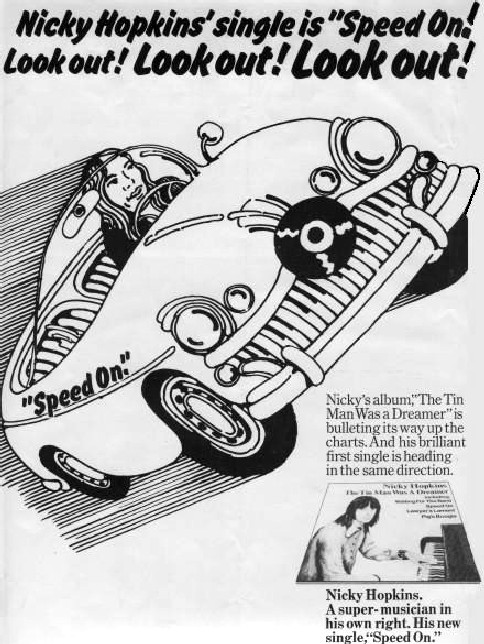 ---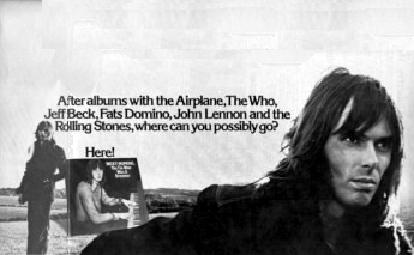 ---
Promo single (does NOT count as a single) for Radio Stations only
Both sides with the single "SPEED ON (Mono/Stereo)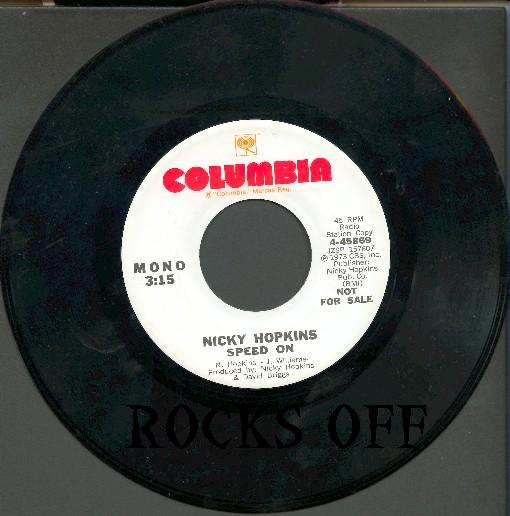 ---
Single 5: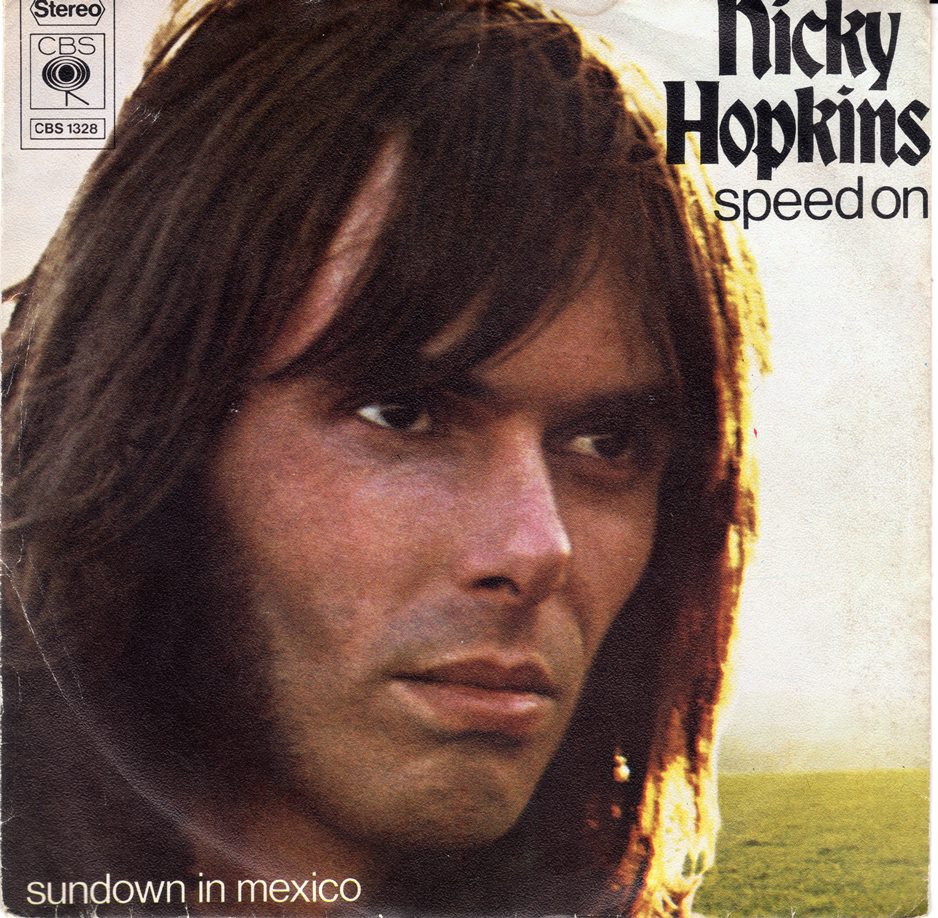 (A) Speed On (B) Sundown In México.
GB: CBS 1328 1973 / USA: CBS 45869 1973
---
Single 6: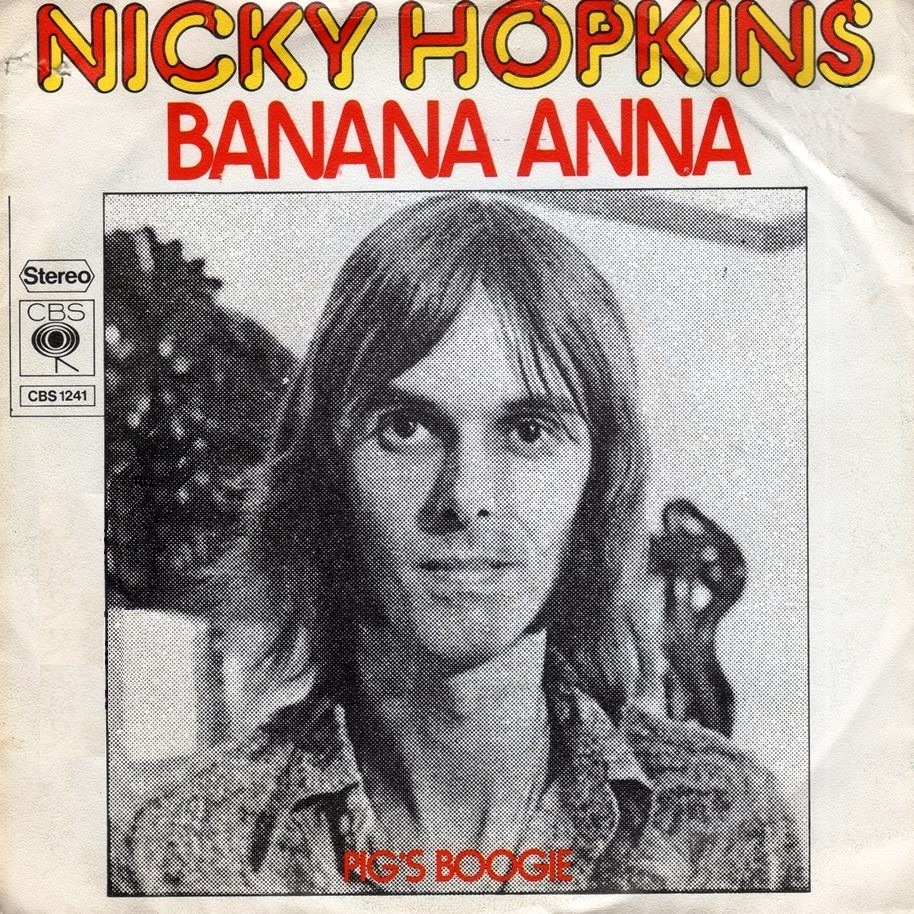 (A) Banana Anna (b) Pig's Boogie
---
Single 7: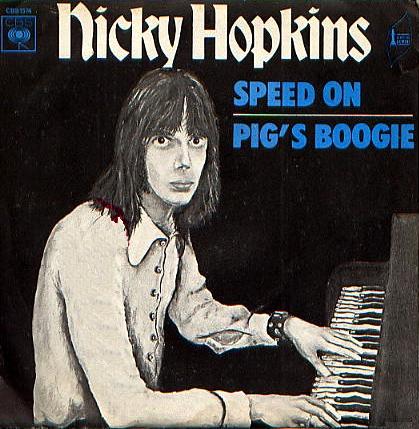 (A) Speed On (B) Pig's Boogie.
---
Single 8: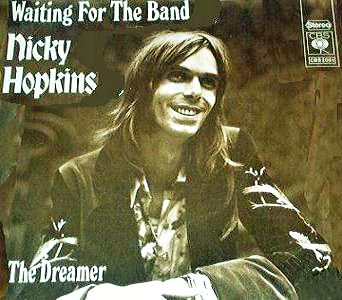 (A) Waiting for the Band (B) The Dreamer
CBS 2051.
---
Album 2:
Tin Man Was a Dreamer 1973
GB: CBS65416
US: CBS 32074
Released in CD in Japan by Sony Records on February 5, 1995 SRCS-6450 and a second release on April 20, 1999 SRCS 9270
Released also in 8-Track Format by Columbia CA-32074 in Stereo
Released also in Audio Tape Format by Columbia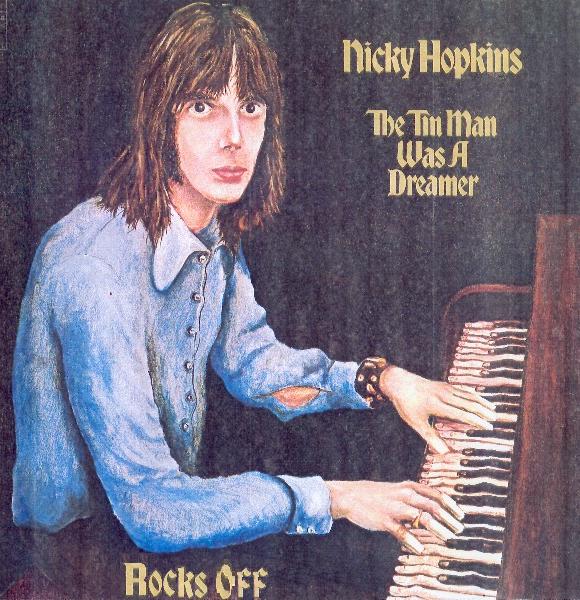 Front cover: Watch the piano keys!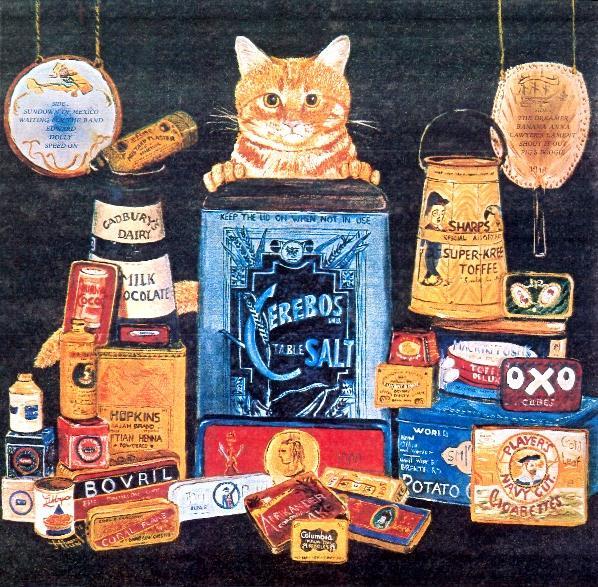 Back cover: Tins from the private collection of Nicky Hopkins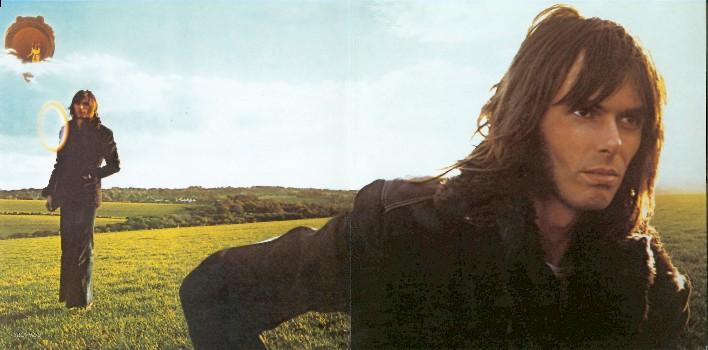 Inside cover: "....the photo was actually taken in Surrey on a clear winter's day Ethan Russell
Credits for the album (Note: George O'Hara = George Harrison)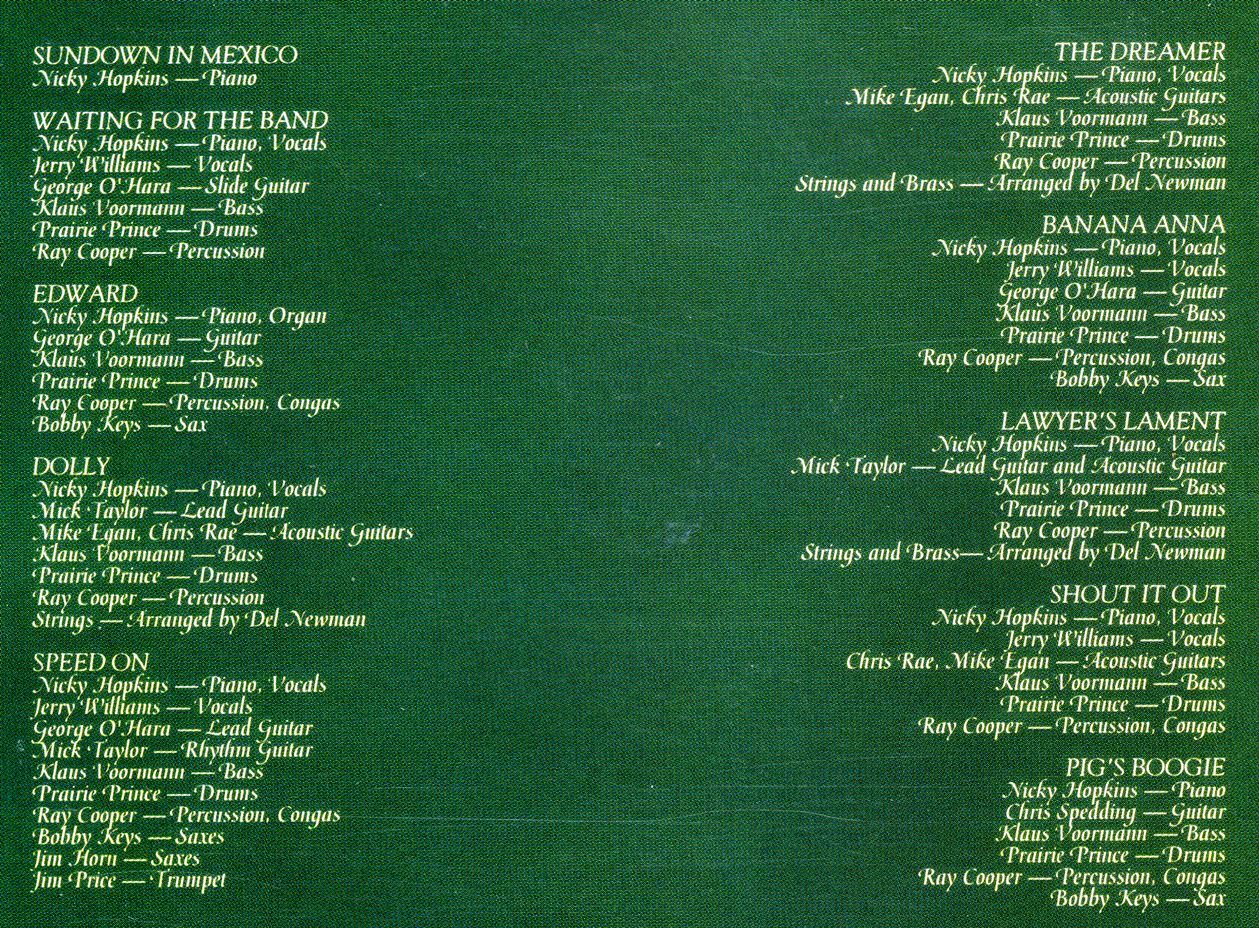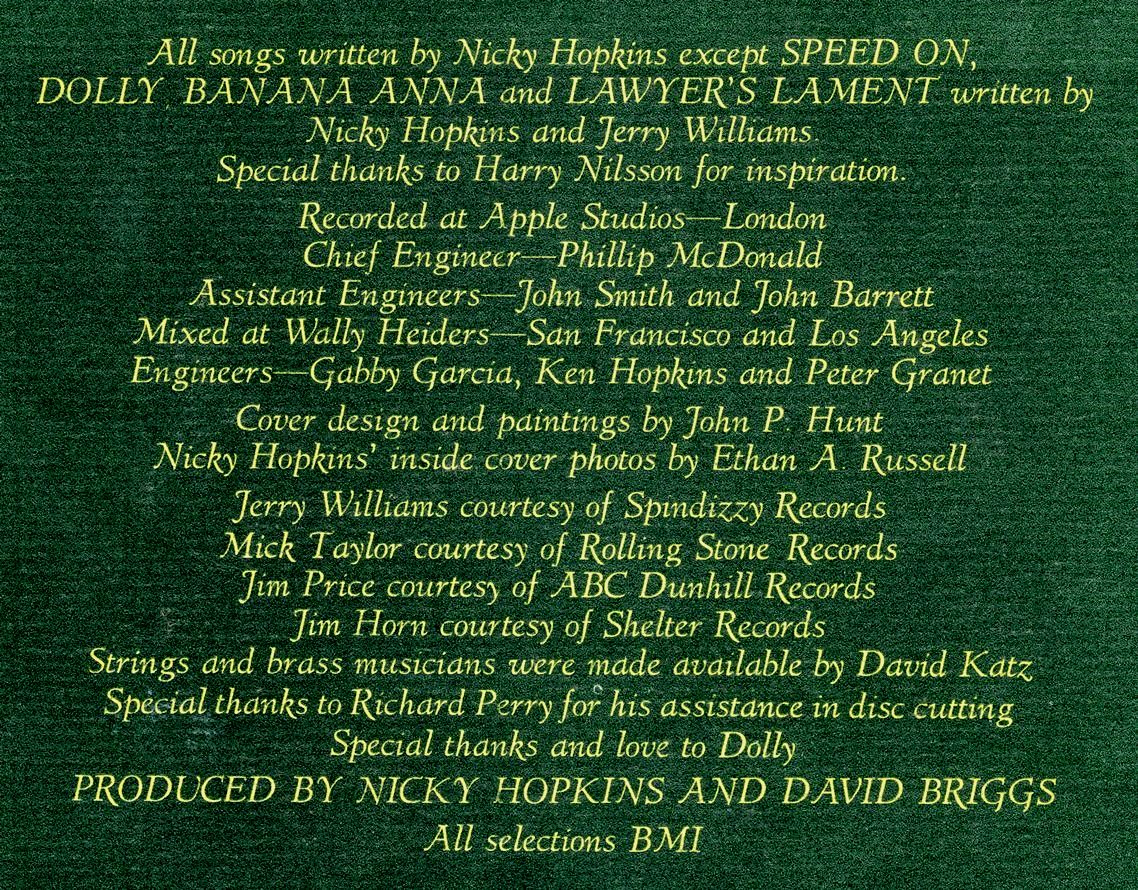 This album includes guest players like Mick Taylor, George Harrison (for contractual reasons appears as George O'Hara), Bobby Keys, Jim Price, Ray Cooper, and Klaus Voormann.

This album opens with a solo piano Sundown in México; it also includes beautiful strings arrangements by Nicky and great solos by Mick Taylor using wah wah in Dolly. George Harrison assisted Nicky and played on tracks 2, 3 and 5 of side A and track 2 of side B. At the same time George Harrison was recording his album "Living in the Material World" in the same studio, The Apple Studios in London; during weekdays, they recorded Harrison's album and on weekends Hopkins album. The album was produced by Nicky and David Briggs. The cover design and paintings were done by John P. Hunt, Inside cover photo by Ethan A. Russell. The back cover shows tins from the private collection of Nicky Hopkins.
For musicians on each track please go to the music samples page
SIDE A
1.- Sundown In México (Nicky Hopkins)
2.- Waiting for the Band (Nicky Hopkins).
3.- Edward (Nicky Hopkins) (*)
4.- Dolly (Nicky Hopkins - Jerry Williams).
5.- Speed On (Nicky Hopkins - Jerry Williams). The single from the album.
SIDE B
1.- The Dreamer (Nicky Hopkins).
2.- Banana Anna (Nicky Hopkins - Jerry Williams).
3.- Lawyer's Lament (Nicky Hopkins - Jerry Williams).
4.- Shout It Out (Nicky Hopkins - Jerry Williams).
5.- Pig's Boogie (Nicky Hopkins).
"
(*) Note: "Edward" is a short and less sophisticated version of "Edward, the Mad Shirt Grinder" as recorded by Quicksilver Messenger Service in the album "Shady Grove"
"Edward" was also the nickname for Nicky Hopkins, given by Brian Jones during some studio sessions at Olympic Studios in London in 1967. Brian was tuning his guitar and asked Nicky to give him an "E" Nicky was not listening and asking "what are you saying?" after many trials Brian shouted out loud "Give me an 'E' like in Edward"
---
Album 3:
No More Changes 1975
US Only: Mercury SRM 11028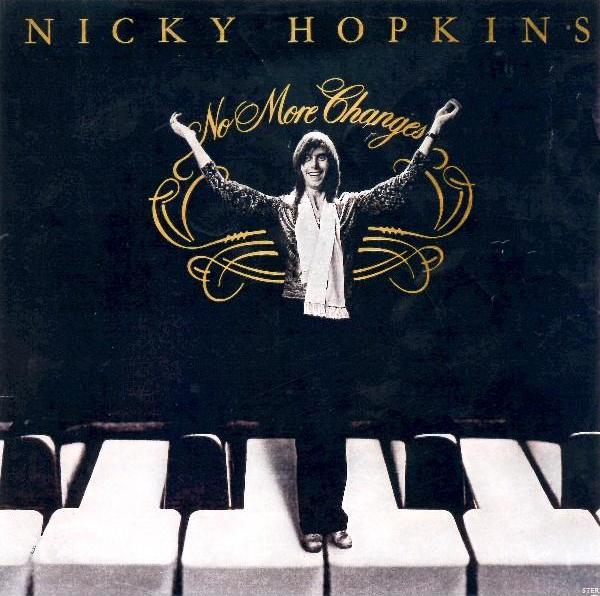 "This album goes with love to my mother (God bless her for having a piano when I was a kid)"

In my humble opinion this is the best album by Nicky!
Produced by Nicky Hopkins, John Edwards and MarkSmith.
Recorded at Ramport Studios and Wessex Studios, London.
Mixed at ABC, Dunhill Studios, Los Angeles.
Mastered at the Mastering Lab. Los Angeles.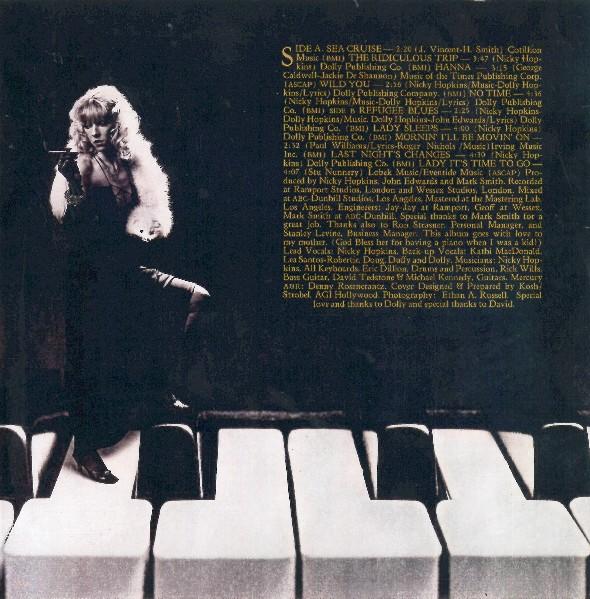 Cover design by Kosh / Strobel, AGI Hollywood.
Photography: Ethan Russell.
In this case I included MP3 samples for all tracks (just click the song title) but only tracks 1 and 4 of side B are complete, all others are just portions to give you an idea of how great is this album.
SIDE A:
1.- Sea Cruise 2:20 (Vincent H. Smith)
2.- The Ridiculous Trip (Nicky Hopkins)
3.- Hanna 3:15 (George Caldwell – Jackie de Shannon)
4.- Wild You 2:36 (Music Nicky Hopkins / Lyrics Dolly Hopkins)
5.- No Time 4:36 (Music Nicky Hopkins / Lyrics Dolly Hopkins)
SIDE B
1.- Refugee Blues 2:25 (Music Nicky and Dolly Hopkins / Lyrics Dolly Hopkins and John Edwards)
2.- Lady Sleeps 4:00 (Nicky Hopkins)
3.- Morning I'll be Moving On 2:32 (Music Paul Williams / Lyrics Roger Nichols)
4.- Last Night Changes 4:30 (Nicky Hopkins)
5.- Lady It's Time To Go 4:07 (Stu Nunnery)
Personnel: Lead Vocals and all Keyboards: Nicky Hopkins.
Back-up vocals: Kathi MacDonals, Lea Santo-Robertie, Doug, Duffy and Dolly.
Eric Dillon: Drums and Percussions.
Rick Willis: Bass
David Tedstone: Guitars.
Michael Kennedy: Guitars.
---
"Prospect" for Album 4:
Later he recorded an album "Long Journey Home", which remains unreleased and probably will never see the light of day!
---
Nicky also released three albums in Japan.

---
Album 4:
The Fugitive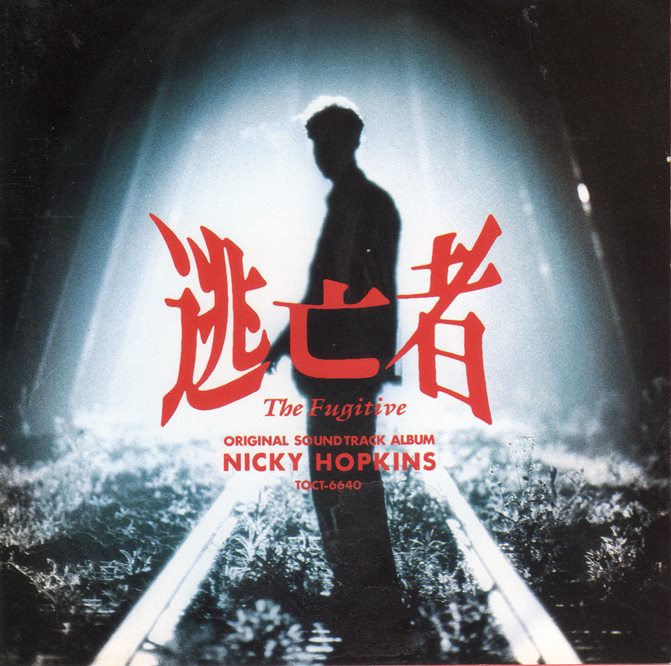 The Fugitive - Original TV Drama Soundtrack
Toshiba EMI/east world TOCT-6640
Released on August 19, 1992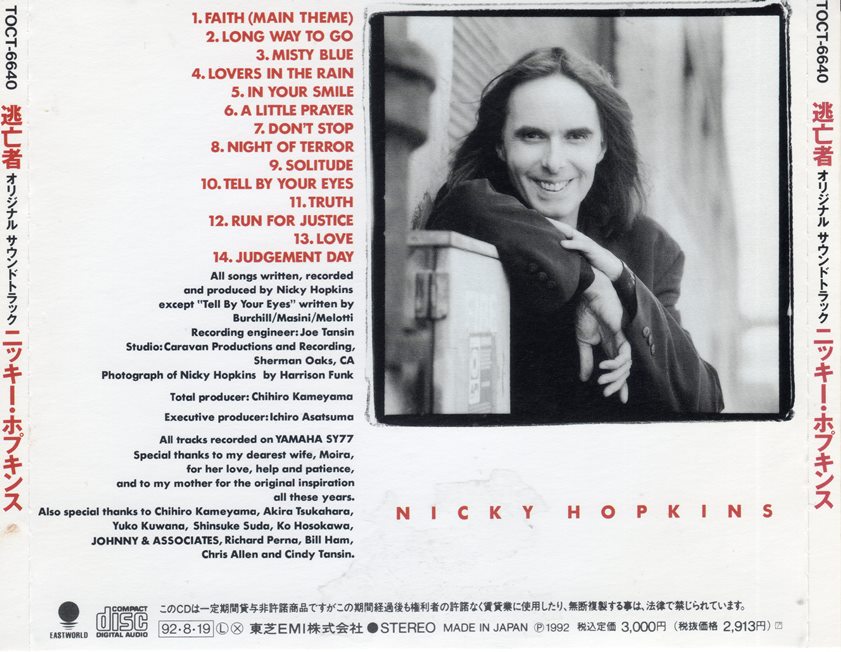 All song written, recorded and produced by Nicky Hopkins
except "Tell By Your Eyes" written by Burchill/Masini/Melotti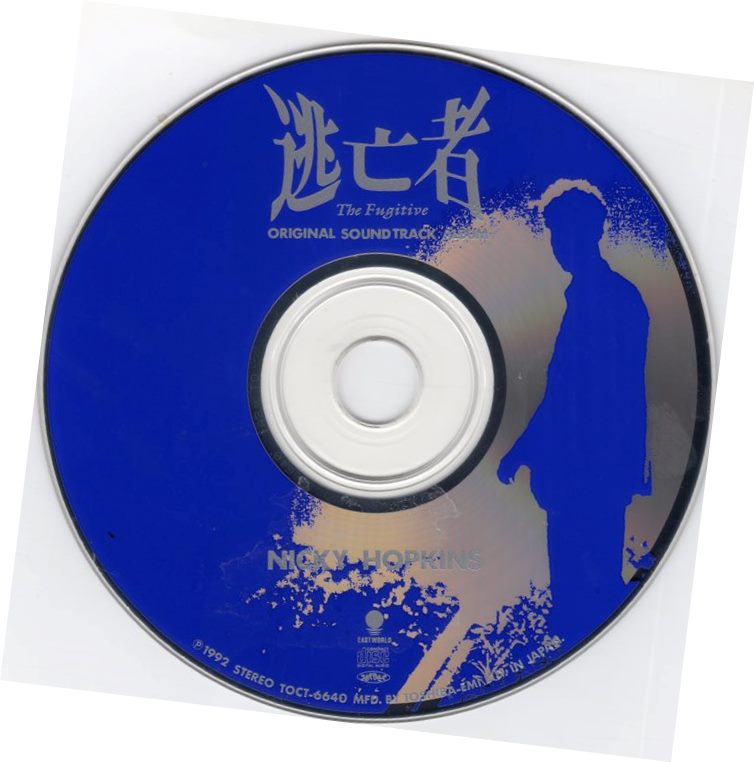 ---
Album 5:
Patio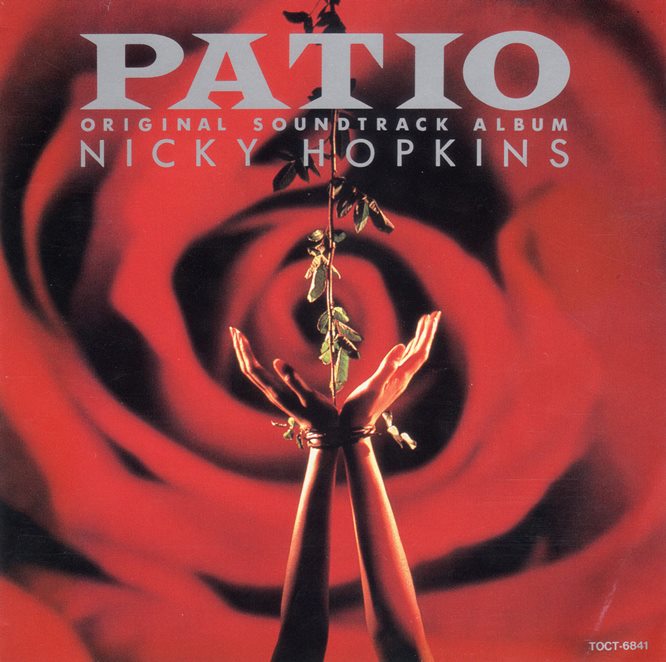 Sountrack
TOSHIBA EMI TOCT-6841
Released on November 11, 1992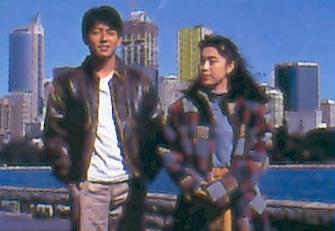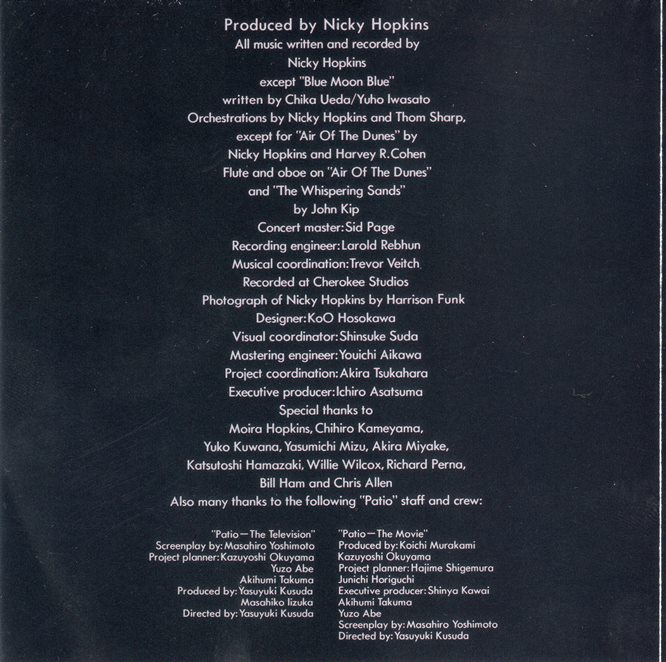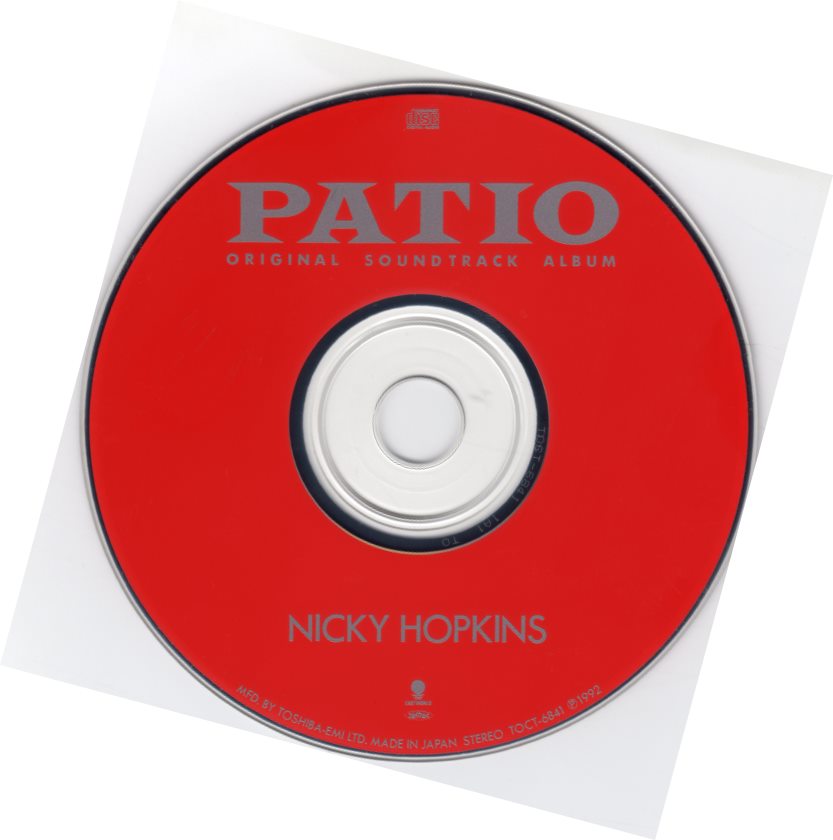 01. VICTORY (MAIN TITLE)
02. AIR OF THE DUNES
03. SPRITES AT PLAY
04. LOVE STORY
05. THE ETERNAL QUEST
06. THE ATTACK
07. BLOSSOMS IN THE BREEZE
08. BLUE MOON BLUE
09. SOLACE
10. LIFE IN L.A.
11. FOREBODING
12. THE RIVERSIDE
13. CONTEMPLATION
14. DAWN'S BREAKING
15. SOFTLY MY LOVE
16. RAINDROPS ON THE WINDOW
17. THE WHISPERING SANDS
18. QUICK AS A FLASH
19. REVELATION
---
Album 6:
Namiki Family (1993)
Japan only TV Soundtrack CD
Toshiba TOCT-6914
Released on February 16, 1993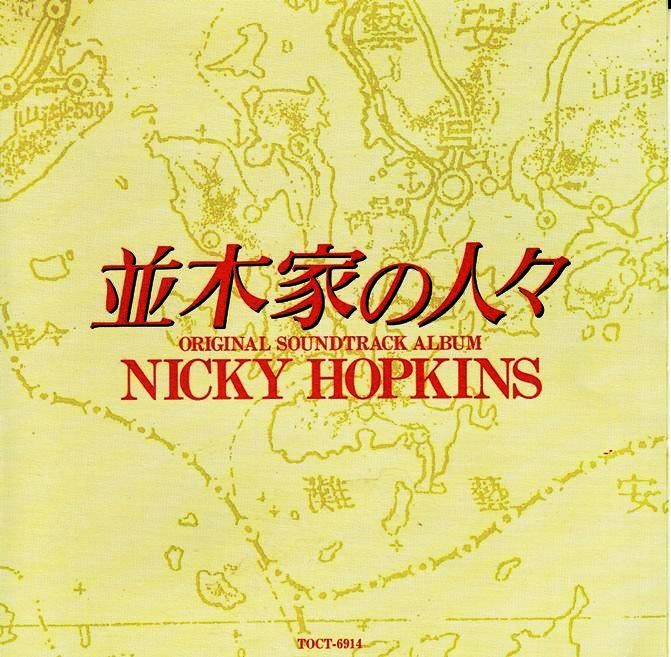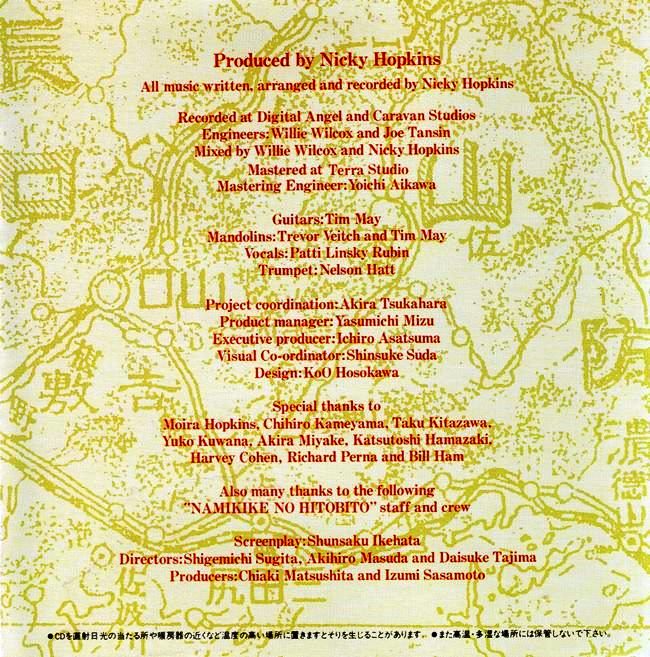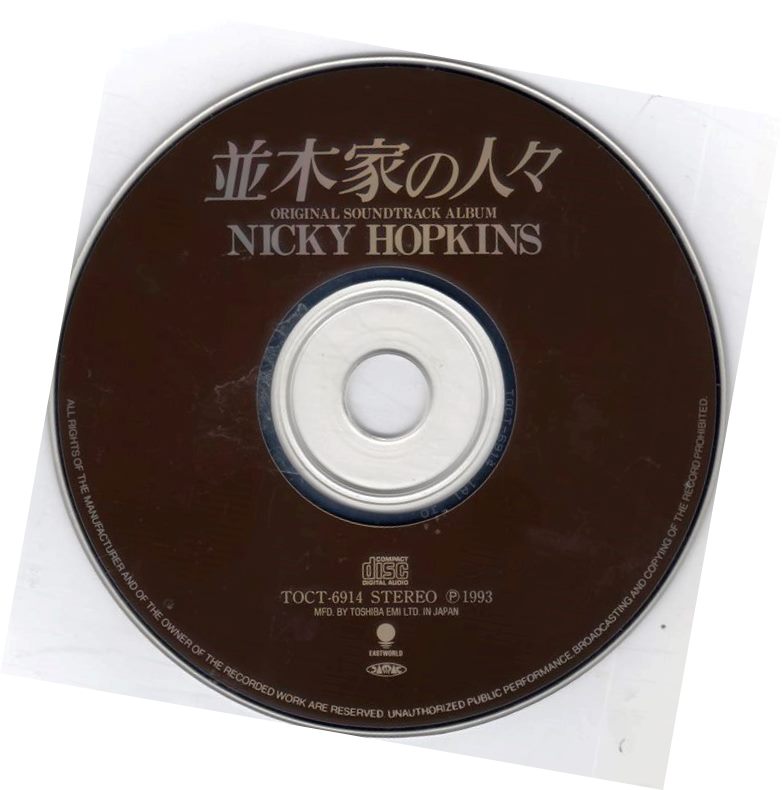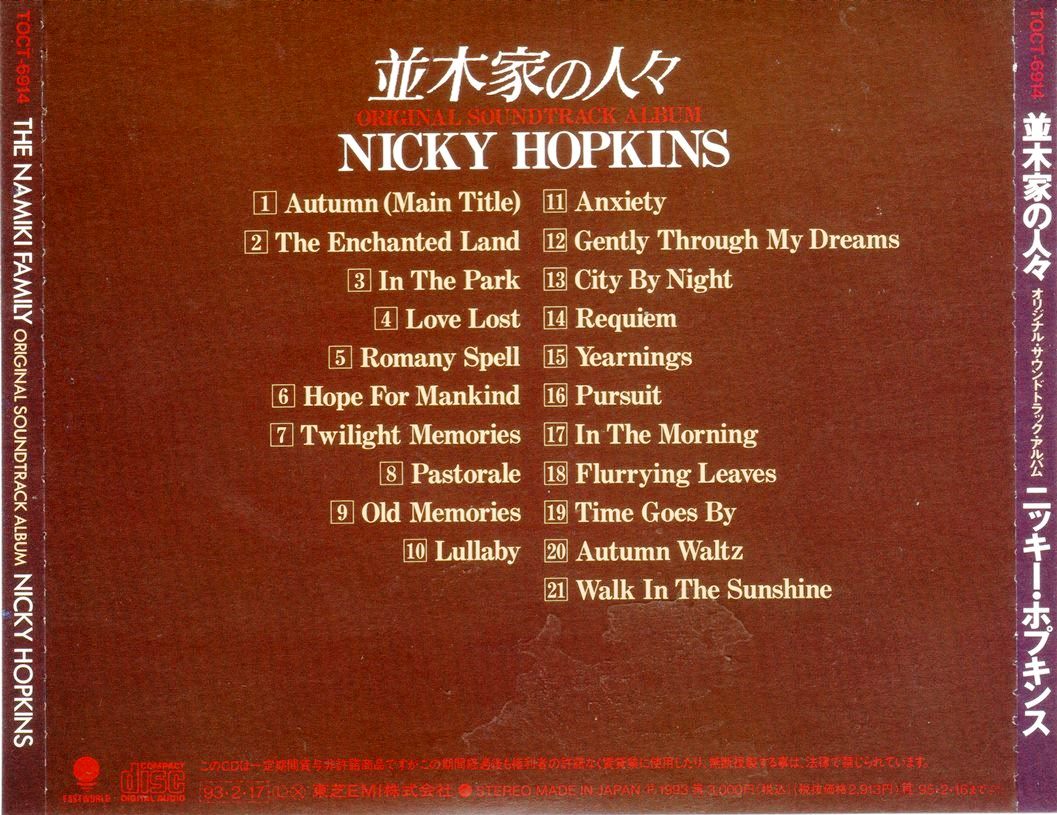 TV Soundtrack CD.

1. Autumn (Main Title)
2. The Enchanted Land
3. In The Park
4. Love Lost
5. Romany Spell
6. Hope For Mankind
7. Twilight Memories
8. Pastorale
9. Old Memories
10. Lullaby
11. Anxiety
12. Gently Through My Dreams
13. City By Night
14. Requiem
15. Yearnings
16. Pursuit
17. In The Morning
18. Flurring Leaves
19. Time Goes By
20. Autumn Waltz
21. Walk In The Sunshine


---
Album 7:
 Last Song PCCA-00492 - January 20, 1994:

This is the art with thanks, a very special thanks to Rob Elliott!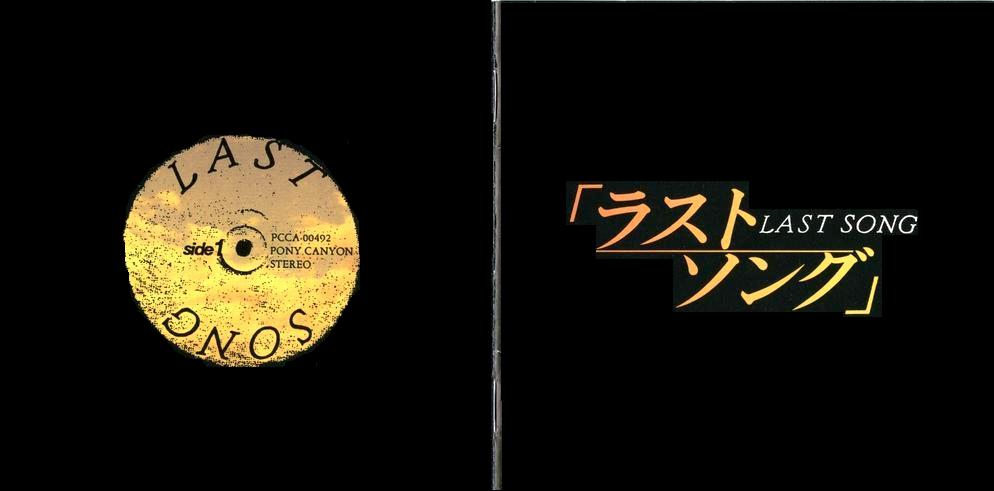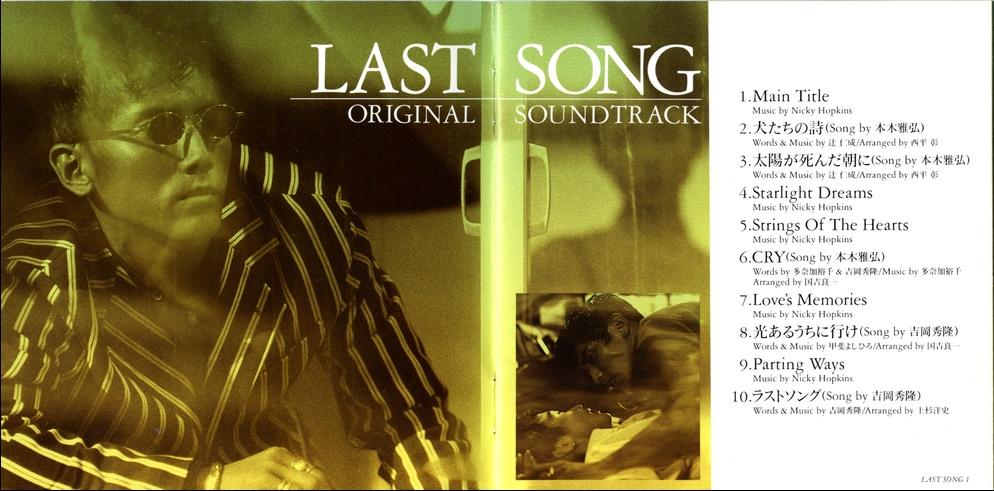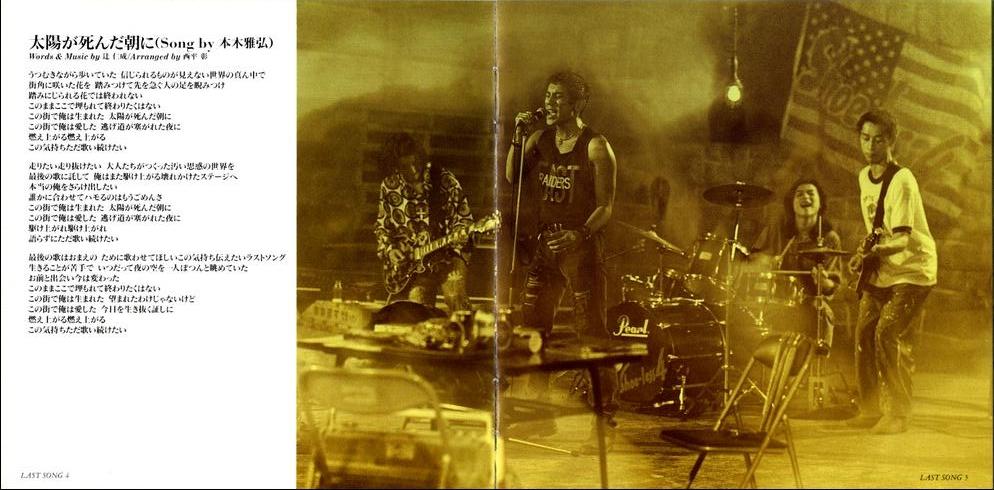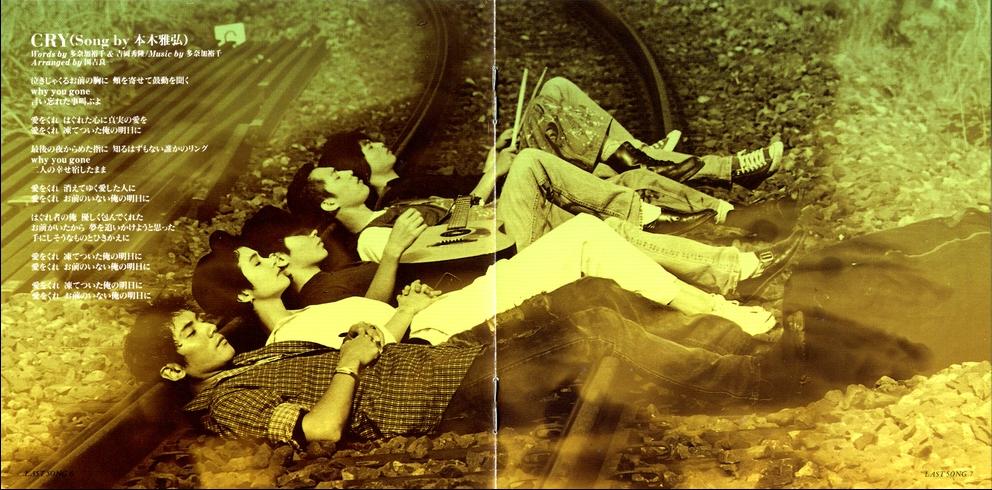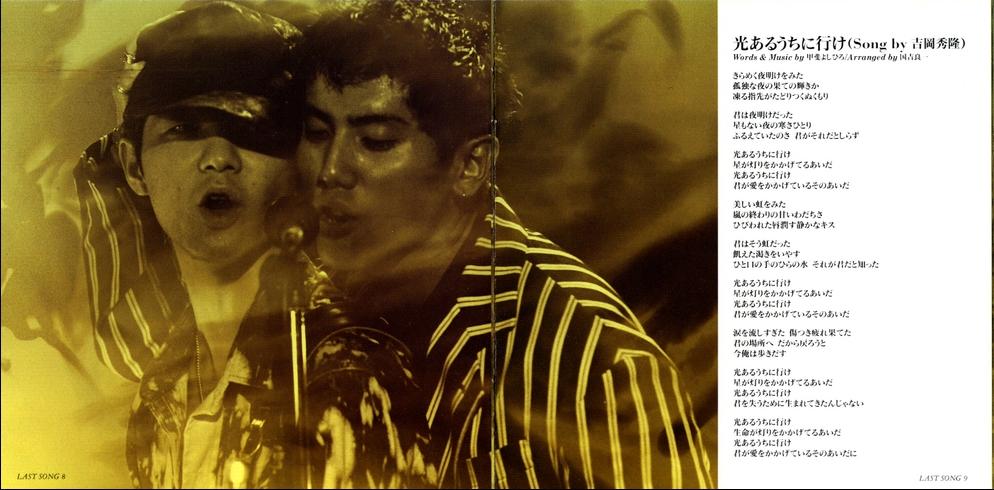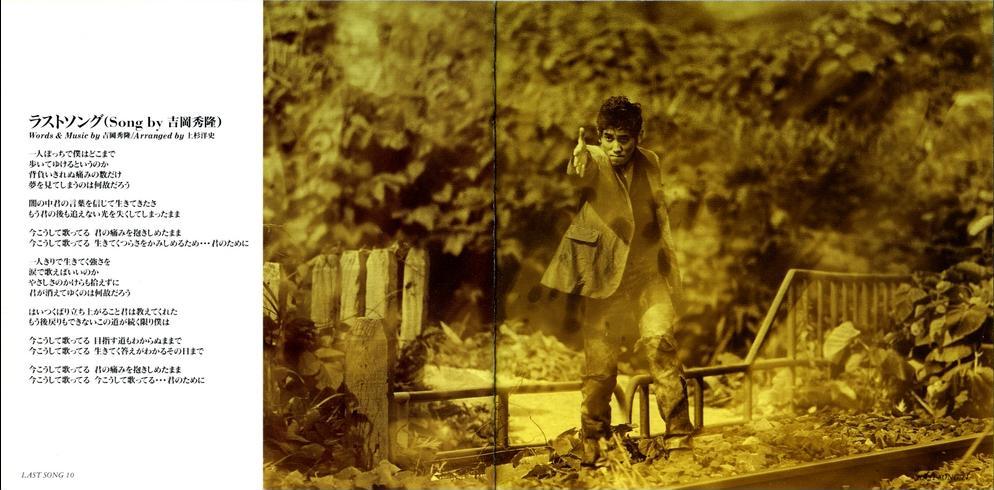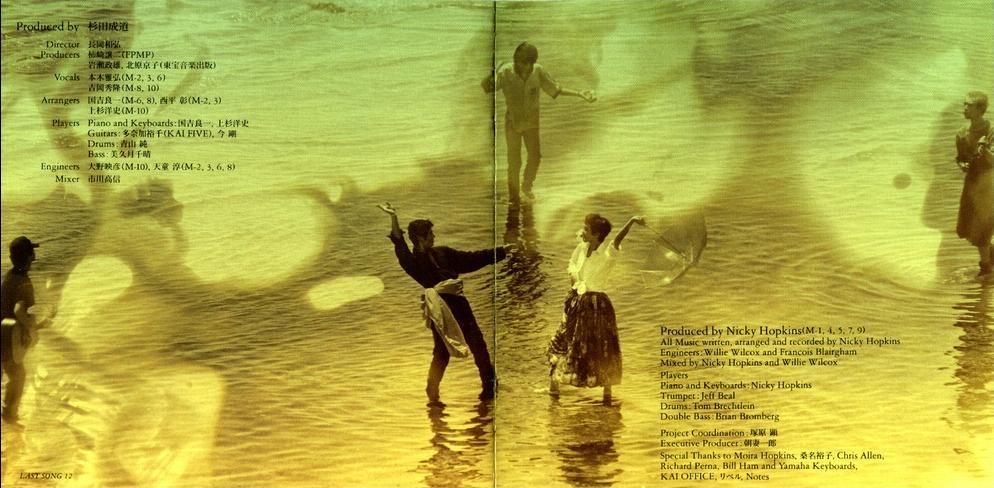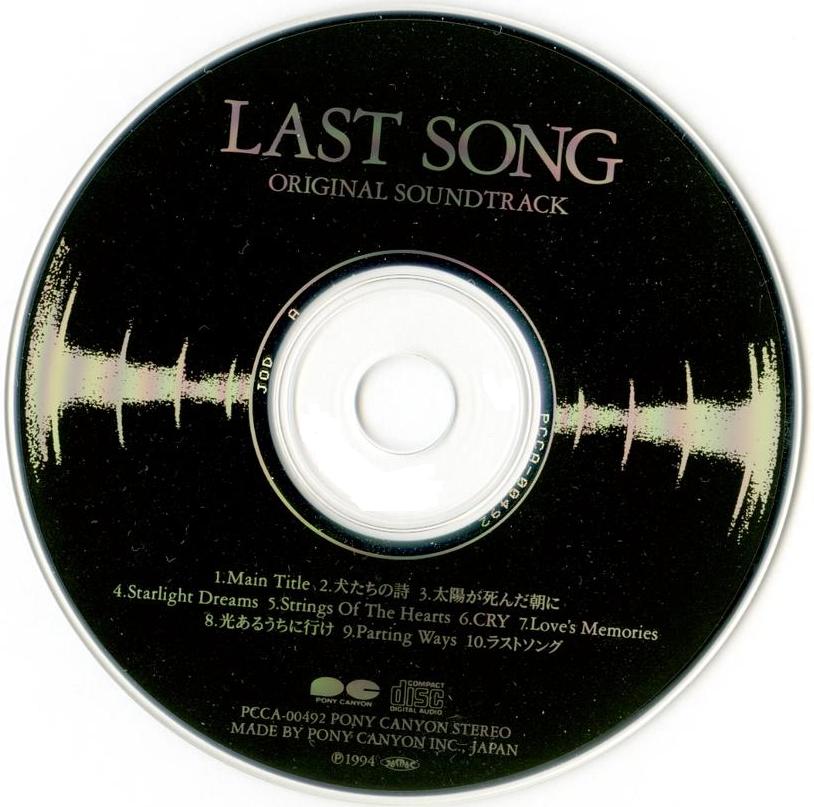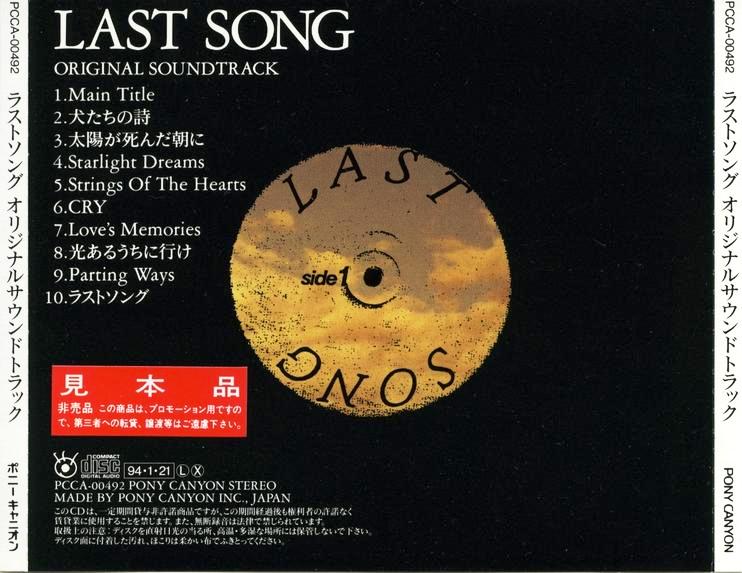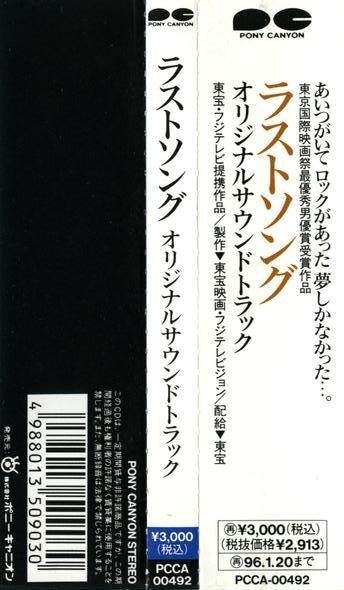 ---
Apparently Nicky also released an album with the title "The person whom you dream" (Sony Records) SRCS-6450 on February 1, 1995, but it is no other than "The Tin Man Was Dreamer"; I want to thanks Hirsohi Shindo aka Hiro from Japan who sent me the explanations and scans. This is his explanation of the confusion caused:

The title was translated into Japanese as "YUME MIRU HITO". I guess that someone (re-)translated this Japanese title into English as "The Person Whom You Dream".

As a proof here are the scans from that release (1995) and my very own Japanese CD released in 1997 (so at least there are two releases of the Tin Man in Japan, 1995 and 1997!!!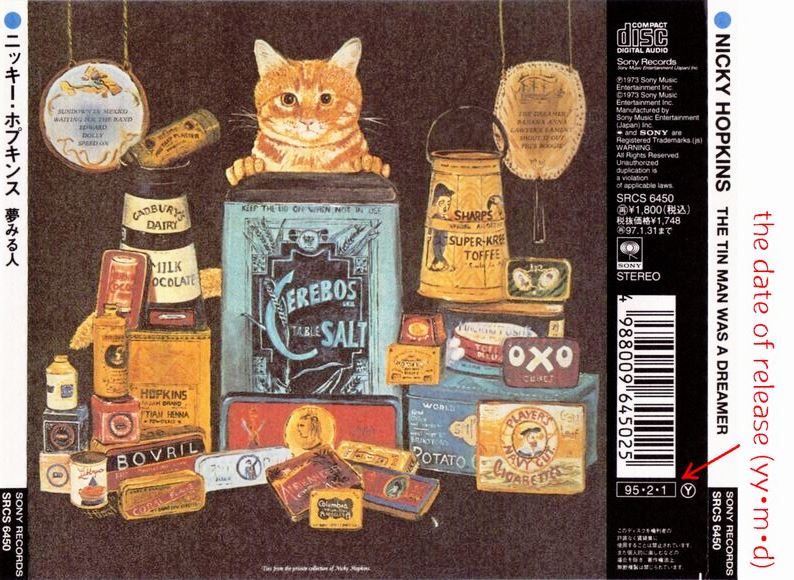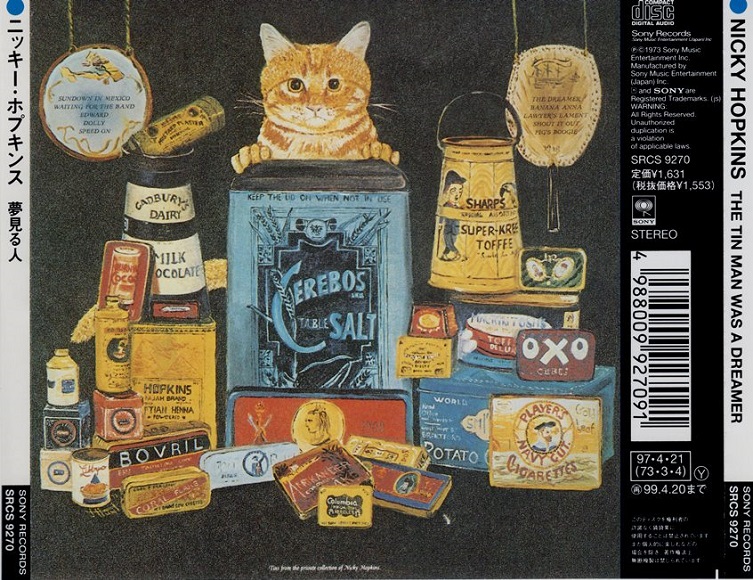 ---
With the information provided by Hiro now I'm pretty sure all the albums credited to Nicky Hopkins as a solo artist are above, about the singles all in the UK are covered above but there were some more released in other countries.
---
---